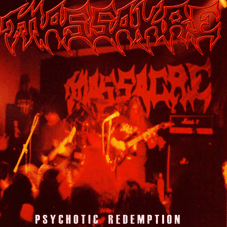 01- Addicted to Insanity.
02- Martyr
03- Altazor
04- Immolation
05- Morbid Death
06- Toxic
07- The Death Poem

Bonus
08.Immolation - DemoII 04-21-2000
09.Death Poem (Crematorium) - DemoII 04-21-2000
10.Altazor - Live Estadio Chile 12-30-1999
11.Addicted To Insanity - Live Estadio Chile 12-30-1999
12.Toxic - Live Estadio Chile 12-30-1999
13.Martyr Of Curse To The Freedom - Instr.Reh. Pre-Demo May-1999
14.Liberate Me - Rehearsal Feb-1999
15.Morbid Death - Rehearsal End 1998 (Extended)
Total playing time 01:18:33

Classic Deathrash.
1998 Yanko Tolic (Voz/ Guitarra) y Eduardo Vidal (Bajo), deciden reagrupar a MASSACRE luego de intentos fallidos
(incluyendo actuaciones en los años 1995 y 1996), para esto llaman a Andy Nacrur (Bateria, quien pertenecio a la
banda entre los años 1986-1987 y con quien grabaron los primeros demos), asi comienza la busqueda de otro
Guitarrista, el cual seria Rene Mundaca, luego de meses de ensayo Patricio Albornoz ocupa el puesto como
Baterista definitivo en MASSACRE, preparan el regreso a los escenarios, trayendo de vuelta al Bipolar y
Psicotico personaje 'Bestial Fucker' (Diego Pijoan). 2000 entran al estudio de grabacion y se realiza una
serie de demos a modo de prueba con temas del periodo 1985-1988 (Morbid Death, The Death Poem, Immolation,
Addicted To Insanity, Altazor) los cuales serian re-adaptados, nuevas y brutales composiciones como Liberate Me
(2005 Cd 'Crematorium'), Martyr, Toxic, 'PSYCHOTIC REDEMPTION' marca el regreso definitivo de los Pioneros y
una de las bandas fundamentales del Metal en CHILE.




New Cover Art
Incluye Carátula original.

Line-up :
Yanko Tolic/Guitars and Vocals.
Rene Mundaca/ Guitars.
Lalo "Baco" Vidal/ Bass.
Patricio Albornoz/ Drums.
Andy Nacrur/ Drums (Track 15).

2001.
2008 EFTG.

CD



MASSAKRE - official web-site.