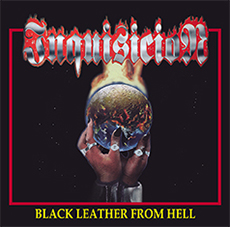 01. Dragonslayer
02. Black Leather From Hell
03. Army of Darkness
04. Midnight Avenger
05. The Axis of The Mist
06. Witchcraft
07. Extermination
08. Devil Mistress
09. Unholy Rhyme
10. Hellracer

Después de 2 grandiosos trabajos realizados, INQUISICION nuevamente volvió a sorprender con su siguiente producción, una verdadera obra Maestra del más técnico y Clásico Heavy Metal, es un verdadero orgullo poder liberar este mes 2 ediciones de "Black Leather From Hell" para celebrar los 20 años de este brillante trabajo y los 25 años de vida de la banda Chilena más importante de Heavy Metal Tradicional.

Librillo 16 Páginas.

Tracks 1 to 8 - Original Studio Takes Remastered
Tracks 9 - 10 Bonus Track previously released as "Live Posthumous" (2001) originally from the "Black Leather From Hell" sessions.


Recorded and Mixed at FXS Studios, Santiago Chile, Aug/Sept 1998.
Engineered and Mixed by Pancho Straub & Manolo Schäfler.
Mastered at Incubus by Manolo Schäfler.

Line-up :
Freddy Alexis - Vox.
Manolo Schäfler - Guitars
Carlos Hernández - Drums
Cristian Maturana - Bass.



20/10/2018 EFTG.

CD

INQUISICION - .